Bangkok, Thailand: InterContinental Bangkok is set to welcome this year's forthcoming Mid-Autumn Festival with treats of premium baked mooncakes, each with a corresponding signature gift box marking creative excellence and culinary craftmanship.
Traditionally, the Mid-Autumn Festival celebrates the end of the autumn harvest, where families and friends come together for thanksgiving and worship. The celebration has since evolved into a gathering to moon-gaze together, where mooncakes are gifted and lanterns are displayed throughout cities.
InterContinental Bangkok's 2023 mooncakes perfectly blend Thai tradition and distinctive flavours, with an exquisite gift box inspired by the beauty of a traditional Phuang Malai, a symbol of good luck, respect and honour, whereas the round shape of the garland box symbolises completeness and reunion, embellished in royal blue and elegant glittering gold patterns that pay homage to Bangkok's skyline.
Crafted by local designers, the lavish festive packaging for InterContinental Bangkok's mooncake gift boxes makes the perfect gift for any cherished relationship—family, friends or colleagues. The floral tassels of the Phuang Malai adorning each gift box are made from clay, infusing a unique touch of artistry that reflects Thai heritage. Inspired by traditional Thai welcoming ceremonies, the Phuang Malai symbolise InterContinental Bangkok's dedication to modern sophistication while paying homage to Thailand's rich culture.
InterContinental Bangkok's mooncakes are handcrafted in-house by the talented chefs of Summer Palace. They are sourced using the highest quality local ingredients for freshness. Sourcing locally is also a testament to InterContinental Bangkok's commitment to sustainability by helping to reduce the hotels carbon footprint and supporting local Thai businesses.
Dominique Martinez, Food and Beverage Director of InterContinental Bangkok said,
"The Mid-Autumn festival is a great occasion to showcase Thailand's diverse cultures and celebrations. This year at InterContinental Bangkok, we are introducing homemade mooncakes freshly baked daily and made with the most premium and quality ingredients by our talented culinary team at our Chinese restaurant Summer Palace. From the delicious flavours of each variation to the beautifully designed packaging suitable for gifts or simple personal enjoyment, our team has carefully crafted every detail of the mooncakes to make sure this year's festival is the most enjoyable and delicious yet."
Mooncakes will be available at Summer Palace and Butter from now until 29 September 2023, renowned dining venues at InterContinental Bangkok, from 11:30 to 22:30 hrs.
InterContinental Bangkok's mooncakes are homemade on site. Flavours include luscious durian custard, aromatic coffee custard, mildly nutty red bean with egg yolk and sweet lotus seed with egg yolk.
Price details for InterContinental Bangkok's Mooncakes are detailed below:
1. Single piece: THB 220 per box
2. Box of 4 pieces: THB 1,188 per box
3. Box of 8 pieces: THB 1,588 per box
To celebrate this joyous occasion, InterContinental Bangkok is offering an exclusive Early Bird promotion until 31 July 2023. Get 20% off with a minimum purchase of 5 boxes (box of 4 or 8 pieces).
To explore InterContinental Bangkok's mooncake collection or to place an order, please visit Summer Palace or Butter. For reservations or enquiries, please visit InterContinental Bangkok, email dining.bkkhb@ihg.com or call +66 (0) 2 656 0444.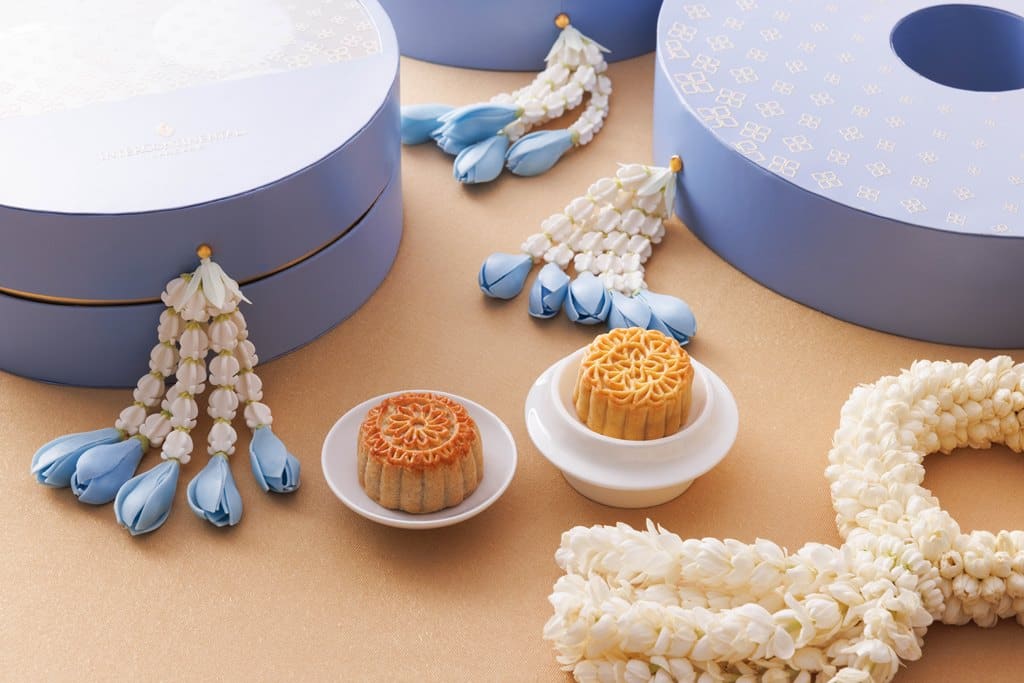 ข่าวประชาสัมพันธ์ถูกโพสต์ โดย: InterContinental Bangkok
ทางเวป krapalm.com ไม่มีส่วนเกี่ยวข้องกับเนื้อหาข่าว และการเขียนข่าวหรือโพสต์ข่าวประชาสัมพันธ์ฉบับนี้ เว็บเป็นเพียงสื่อกลาง ที่เปิดให้เจ้าของข่าวประชาสัมพันธ์หรือตัวแทนโดยชอบธรรมได้โพสต์ด้วยตัวเอง หากข่าวมีความผิดพลาด หรือต้องการให้ลบ สามารถแจ้งทีมงานได้